3/16
Family business yesterday obliged me to skip posting on the Ides of March. So here goes anew.
From Felix Salmon. Don't know whether to rejoice or bewail. https://www.recode.net/2018/3/16/17126486/reuters-news-funding-10-billion-dollars-moneyi
Amen: http://kunstler.com/clusterfuck-nation/drums-along-potomac/
Sad to read this. I am a huge Peter Temple fan. His Identity Theory  is one of the best spy-game thrillers I've ever read. Discover him for yourself. https://www.theguardian.com/books/2018/mar/12/peter-temple-acclaimed-writer-dies-aged-71
3/17
Let's start the day with a combination heartfelt dual apology and strong, unqualified recommendation. One problem with doing this website the way I do – no money in it, irregular attention – is that I overlook stuff that I think my readers will profit from. One such is www.headbutler.com, written by my friend Jesse Kornbluth. Indefatigable, probably sleepless, Jesse covers everything! From books to health aids to streaming video to…oh, you name it: he's there, got a line on it, and will tell you whether in his opinion something's worth looking at or into. I have consistently found his takes reliable. For instance,   I can't exactly remember – dotage has its disadvantages – if it was Jesse/headbutler who first turned me on to Peter Temple, but it very well could have been. Here's his tribute to Temple (and an excellent sample of Jesse's work):  https://www.headbutler.com/reviews/peter-temple-1946-2018/   So that's the recommendation bit. The apology is to you, my few and dauntless readers, and to Jesse for not having put the two of you together long ago. To paraphrase, the old commercial: try him, you'll love him!

My pal Bob Rubin – (no, not that Bob Rubin- Robert E. – nor the wonderful Bob R. – Robert S. – but the equally great Robert M.) sent this. read (if you can) and weep! 
https://www.nakedcapitalism.com/2018/03/nycs-fauxgressive-mayor-turning-charter-school-cheerleader.html From the day he first announced, I made De Blasio for a liar, a bullshit artist and completely phony in all his professions. And so he has turned out. 
Hmmmm. Kind of makes me wish the old boy with the hood and scythe comes calling before 2020. As long as the Dems are the party of Pelosi and Schumer, who cheat as much as Dreckstuck does but play at the penny-ante table, they have no chance. None. https://www.washingtonpost.com/opinions/trump-is-a-freak-of-political-nature-heres-you-can-beat-him/2018/03/14/0e59a62c-18c8-11e8-b681-2d4d462a1921_story.html?utm_term=.9b7e1bedef0c
Every American – starting at about freshmen year in college, when one has at least some developed sense of the world and what it means to be a grownup- should read Grant's Memoirs. https://www.neh.gov/humanities/2018/winter/feature/what-drove-ulysses-grant-write-about-the-civil-war
"There are three tenets to the metrical canon. The first holds that it is both possible and desirable to replace judgment – acquired through personal experience and talent – with numerical indicators of comparative performance based on standardized data. Second, making such metrics public and transparent ensures that institutions are held accountable. And, third, the best way to motivate people within organizations is to attach monetary or reputational rewards and penalties to their measured performance." Over twenty years ago, I made precisely these points in what has to have been the worst-attended monthly address in the history of the Century Association. The title I gave my talk was "Dumb, Dumber, Dumbest: Life in the Age of the Intelligent Machine", and it was about the dangers of adulating computers and what they do and how they do to the point of trying to make our brains and faculties of judgment emulate them. This is an important article: https://www.project-syndicate.org/onpoint/the-metric-god-that-failed-by-jerry-z–muller-2018-03
3/19
Skipped yesterday. Family fun – and Rory McIlroy putting on as great a putting exhibition as I have ever watched to win the Arnold Palmer.
Thanks again, Tyler Cowen. This is totally cool! https://www.merriam-webster.com/time-traveler/2016
The economist Herbert Stein remarked that if something can't go on forever, it won't. His apothegm is usually applied to bullish phenomena, stock bubbles and the like, but it also applies to dirty business. As Chaucer put it (Nun's Priest's Tale): "Murder will out, that see we day by day./Murder is so wlatsom* and abominable *loathsome/To God, that is so just and reasonable,/That he will not suffer it heled* be; *concealed/Though it abide a year, or two, or three,/Murder will out, this is my conclusioun" Or, as the Clintons were supposed to have learned: you will  get caught. And so, racing fans…http://wallstreetonparade.com/2018/03/the-deutsche-bank-trump-connection-why-house-probe-abruptly-shut-down/     This administration summons up remembrances of things past, notably my time on Wall Street, when, in seeking a petroleum geologist to vet an oil deal, we always looked for a guy that we "know we can work with," as one of my partners put it; that is, give us the number we needed to make the deal fly, irrespective of what might actually have been in the ground. Which brings me to another coinage for which I claim credit: every number exists in two dimensions, as it were: the absolute (EPS increased by $1) and the proportionate (EPS increased by 20%), and you use whichever best supports the lie you are about to tell. 
Speaking of De Blasio (above), my pal Ginia Bellafante put it perfectly in her column in yesterday's NYT "Metropolitan" section. The man spends his time "mythologizing himself."
Sunday is a good day for pondering the larger issues of life. Looking at the way we live now, I would say that the greatest, most tragic victim of this benighted age has been truth. I can think of no aspect of existence where Trust, or if you prefer Truth, isn't improving, even essential. Macbeth murdered sleep. Dreckstuck and his predecessors, and all who sail in him pro or con, have murdered truth, and what that lot haven't killed off, Mammon has. 
Is there a more irritating character on TV than Carrie, the character played so skillfully by Claire Danes on "Homeland"? But that show's lead-in, "Our Cartoon President," seems definitely to be finding its chops.  
http://www.brooklyneagle.com/articles/2018/3/16/homeless-students-falling-through-cracks-nyc-schools-stringers-report
It seems to me that any polity that not only allows  but in fact facilitates child homelessness by making public policy of deferential treatment of rent-extracting real estate swine, was never "great" the first time. How about "MADA" – Make America Decent Again! We might start here: http://www.nydailynews.com/new-york/kushner-family-business-submitted-false-paperwork-city-article-1.3882159?cid=bitlyBut if you're looking for a reason to despair: https://www.politico.com/story/2018/03/19/kelly-to-tap-kushner-ally-chris-liddell-as-deputy-chief-for-policy-470654
Now here's an issue that has always perplexed me: the valuation of extreme personal wealth. https://www.bloomberg.com/news/articles/2018-03-19/zuckerberg-s-fortune-falls-3-8-billion-over-data-exploitationNow there's no denying that the decline in value represented by the last posted sale of FB, which could have been 100 shares, or 100,000, or 1,00o,000, would reduce the total notional value of Zuckerberg's FB stock. But as to its real  value, whoa! Let's suppose Zuckerberg gets fatally hit by a runaway coffee machine and his executors decide to bail. His FB holding would probably take a hit of a great deal more than $3.8 billion. On the other hand, if, say, Saudi Arabia made an offer for FB – the whole – it would have to pay a fat premium over market. So the $3.8 big ones is a fun figure but bears no relation to probability; it's like saying that because Dreckstuck  told the truth once, when he was, say, seven, you can take him at his word – especially when it comes to his net worth. My first assignment at Lehman Brothers, back in 1962, when I really didn't know anything, was to value an estate block of Texaco stock. I quickly discerned that if I used my imagination to concoct various scenarios that might affect this block or Texaco shares in general, I could come up with a defensible valuation embodying a 30% swing. See my observation above about absolute and proportional. 
3/20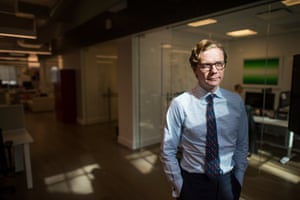 "There's no art to find the mind's construction in the face." Thus saith King Duncan early in Macbeth. Oh, yeah? Well, take a look at the beady, devious, so-clever-by-half features (above) of one Alexander Nix, CEO of Cambridge Analytica, the dirt-slinging operation founded by Bannon and Mercer, and tell me if that face doesn't tell you all you need to know about a character (sic) that UK media have caught on camera and microphone boasting about the smorgasbord of dirty tricks and fixes his firm offers to people willing to pay to skew politics their way. Alexander Nix? More like Alexander Fix! Here's the skinny: https://www.theguardian.com/news/2018/mar/17/data-war-whistleblower-christopher-wylie-faceook-nix-bannon-trump
A bad day on the obit page: news of the passing of two fine guys named Bob. First, Bob Grossman, the great cartoonist, whose work often adorned the front page of The New York Observer. Even though our stints overlapped at the paper, we didn't really see much of each other, as neither of us visited the premises very often. When we did, we enjoyed each other's company, and he was one of the greatest cartoonist-caricaturists of our era, worthy of being mentioned in the same class as Gillray and Nast. 
It also seems, finally, that death has allowed the great Bob Rubin – Robert S. – to rejoin his beloved wife Marty in the Empyrean. Bob and I were colleagues at Lehman Brothers back in the '60s-early '70s. We became partners on the same day: January 1, 1967 (along with another notable Bob, Robert F. Shapiro). Bob was one of the good ones: smart, decent, honest, modest. For a time we were co-heads of Lehman's corporate finance department, but in my view "co-" in name only, because he knew what he was doing. He went on to become one of Brooklyn's all-time greatest philanthropists, at a time when – unlike today – there wasn't a whole lot of wealth in this borough. His and Marty's patronage of the Brooklyn Museum and St. Ann's School is as much a part of those institutions as the stone they're built from and the cultural enrichment they dispense. His (theirs) was a life that by any thinking person's standards must go down as enviably well-lived. 
Do yourselves a favor. Check out https://thebrowser.com/
You know you read about someone like Betsy DeVos and you can't help concluding that if this great republic is to carry on,  a way has to be found to separate fools from their money – or at least neuter that money so that it can't buy its possessor's way into politics or public service (sic). Maybe the moral equivalent of an IQ Test? https://www.bostonglobe.com/opinion/2018/03/19/imagine-secretary-education-who-understands-public-education/SC94CJJZLKxrrZiCxlwJWN/story.html?et_rid=1758184608&s_campaign=todaysheadlines:newsletter
I don't look at Twitter (I plucked this via a link on Politico's "Morning Media") but David Simon (The Wire) has a point. These tech companies are started by very young people, people too young to have acquired the experience that is a key component of judgment, wisdom and perspective. Microsoft wasn't unalike – but I feel Bill Gates had his father's stabilizing hand to count on. Where are the adults in the room? Or – better yet – at the keyboard?  And leave us not forget that Goggle brought in Eric Schmidt, then 46, to hold the hands of Page and Brin.  https://twitter.com/aodespair/status/975921015875407877?refsrc=email&s=11 
Totally agree! I thought "60 Minutes" performance was chickenshit of the lowest order. https://theintercept.com/2018/03/19/the-cbs-interview-with-saudi-arabias-mohammed-bin-salman-was-a-crime-against-journalism/
Now it starts to get fun: https://www.politico.com/story/2018/03/20/trump-summer-zervos-lawsuit-474026
I wonder if someone – Roger Stone seems likely – persuaded Dreckstuck to go forward with his campaign on the theory that, if elected, all the trouble he'd stacked up in his past would go away thanks to some kind of presidential immunity. https://www.politico.com/story/2018/03/20/trump-summer-zervos-lawsuit-474026 And it only gets better: https://www.nytimes.com/2018/03/20/us/ex-playboy-model-sues-to-break-silence-on-trump.html?emc=edit_na_20180320&nl=breaking-news&nlid=2476992&ref=cta
I think this is bloody good. https://www.chronicle.com/article/academics-are-too-scared-to/242817?key=HnRoS7rGU2F1XrEi2rMQqgYeSK1qlMghd_8f1XdQaxex1aXtyiCaO1UDBe4cOiB8RGZ6blp2LUhxUVUyQ0ZLQkgzLURSaVBnZk5KTEZkRkJkZ3BJOENrOTRxcwInterestingly, before I happened on this (thanks, Naked Capitalism), I had read the account in the great dealer Richard Feigen's Tales from the Art Crypt about how the clown car of "theory" pulled up outside university art history departments and disgorged the Three Stooges – T.J.Clark, Michael Fried and Clement Greenberg – who promptly set about them with the pedagogical equivalent of whoopee cushions. 
Regarding Robert Grossman, don't miss these! http://o-manlandcomics.blogspot.com/
FYI: https://www.cnn.com/interactive/2018/politics/meet-the-mueller-team/index.html
3/21
Pete Peterson has died age 91. I considered him a friend, with this caveat: I never was involved in business, in any way, with him. If I had been, I might feel differently because Pete was a consummate bullshit artist, a bullshit genius in my estimation, a talent he perfected (I suspect) as Marion Harper's protege at McCann-Ericson at the beginning of his career, and which carried him to ever greater heights in corporate life, in government, on Wall Street and high finance, and which reached its apotheosis in the Hamilton Project, to my mind the Sistine Ceiling of bien pensant patrician American BS. I think it was this that caused Pete's detractors to speak of him with such vehemence. Well, hard cheese to them! In this country you get where you want to go by exploiting what you have, and Pete may not have been a whiz with the numbers – he had people like Glucksman and Schwarzman for that – but when it came to the kind of blahblahblah that has the big hitters reaching for their checkbooks, he had no equal. None of this affected me professionally. I took the BS for what it was and found him entertaining, decent and quirky: have him for dinner and he'd insist on helping with the dishes afterward. There was one irritating aspect of our relationship: Pete was a pain in the ass to play golf with, because he'd hit his shot and then take off up the fairway in the cart leaving yours truly standing by my ball screaming at him to come back because he had my clubs with him.  Anyway, he had a hell of a life, the kind that lets its begetter bask in his achievements, his acquaintanceship, his family, his prominence, his material well-being and -never underestimate this as a source of existential joy – the ill-will of those who criticized him or ran him down out of simple envy. I wish his widow Joan, and his children Holly and David and their siblings whatever comfort they can find. Quite a guy, quite a trip!  
Speaking of the Hamilton Project, readers of this website might be amused by the following excerpt from a letter I wrote to one of the Project's sponsors (not Pete, although I said pretty much the same to him) back in 2006:
"And that brings me to the Hamilton Project, the Wall Street Journal report on which prompted me to look up your website and download the mission statement. This I read with great interest, several times, and what I read prompts me now to write to urge that you and your colleagues in this amazingly self-congratulatory undertaking cease and desist.
I say this in a kindly, even condolatory way. The "Project" has absolutely no chance of success – unless, of course, you equate (and it occurs to me that by now you may) a certain measure of PR exposure with achievement. For one thing, there are no new ideas in the statement. "Economic security and economic growth can be mutually reinforcing" is not a new idea, nor is any to be found in the page-long gloss that follows the enunciation of this bold new "principle." If I may paraphrase Churchill's well-known apothegm on the late Soviet Union, what we have here is platitude wrapped in cliché inside bromide – over and over and over. And this begs the question, for this nation at least, of a nation-fixing mission statement that nowhere (unless I am blind) includes the word "immigration."
Another reason that the Project has absolutely no chance of success is – how am I going to put this gently? – the people behind it. Your Advisory Council consists of 25 individuals. Of these, twelve come from Wall Street, broadly considered. I cannot say for sure whether experience in grossly-overpaid lines of work such as hedge funds and derivatives trading and private equity and giving merger advice, which do not in the ordinary course of their business concern themselves with such matters as how to get a job, pay the doctor, put food on the table, equips one to understand, let alone deal with the vexations faced by the people in this country we need to worry about, but it seems conjectural at best.
Another ten members of your Advisory Council come from Academe, which requires no further comment, a consideration that also applies to the member who comes from the Never-Neverland of management consulting. Two others make their home in think tanks, and the last is in publishing. At a time when enterprises like General Motors and Ford are back to wall, one might have thought some representation from the "make and do and hire and fire" sectors of American commerce would have proved helpful, even insightful. Perhaps even someone from Wal-Mart.
That said, I have no doubt that the Project will achieve its real goals. It will commission studies, enable consultants, stage conferences and symposia and panels, publish full-page newspaper ads, generate press coverage and the like, in the same inspiring manner as its ancestor in blather, the Concord Coalition of blessed memory.
But is this really the point? If there were some way to monetize self-congratulation, or to convert into BTUs the energy released by stroking the chin while gravely pursing the lips, I would argue otherwise. But the chances seem twofold: slim and none. The sad truth seems to be, at least in the eyes of one who has spent enough time at the Four Seasons to have a sense of how this stuff works, that this really isn't a program about helping the less-advantaged or getting the country straightened out in a fiscal and intellectual sense, this is an advertisement for a government-in-waiting.
In conclusion, let me say that this letter is written in darkest self-interest. The day you receive this letter I shall turn 70. Years ago, I took my design for living from a famous New Yorker cartoon, in which a very fancy mother says to her son, "Eat your broccoli, dear," and the lad, after inspecting his plate dubiously, replies, "I say it's spinach and I say the hell with it!" The sun will soon enough go down for the last time for me, and already the chances are that its final twinkling rays will be blotted out by the giant mounds of spinach with which the American landscape has been heaped by self-aggrandizing Panglosses in pinstripes. I beg you not to add to the pile.
As always,"
I long ago quit Twitter and FB because I found their capacity for distraction and foolishness to be an existential multiple of their utility. But I do bookmark a site called "Trump Twitter Archive" which reports Dreckstuck's digital emissions.  Here are today's: "Mar 21, 2018 06:29:03 AM – "Special Council is told to find crimes, whether a crime exists or not. I was opposed to the selection of Mueller to be Special Council. I am still opposed to it. I think President Trump was right when he said there never should have been a Special Council appointed because…..
Mar 21, 2018 06:11:17 AM – …there was no probable cause for believing that there was any crime, collusion or otherwise, or obstruction of justice!" So stated by Harvard Law Professor Alan Dershowitz. " These strongly suggest that if Dreckstruck  should be driven from Washington, he's unlikely to make a good living competing in spelling bees.  
Like Tyler Cowen, I'm having trouble assessing exactly how much the Cambridge Analytica-FB "collaboration" affected the 2016 elections. One characteristic I've noted in social media is how much "birds of a feather" operations they are, bully pulpits for those who preach to the already converted. Cowen has pointed to an article of Bloomberg by Leonid Bershidsky for a common-sense tour d'horizon of the matter. Here's an excerpt: 
"The relevant question, however, is what a campaign can actually do with the data. CA's supposedly sinister skill is that it can use the Facebook profile information to build psychological profiles that reveal a person's propensity to vote for a certain party or candidate. When matched against electoral registers, targeted appeals are possible.
But no one should take the psychological profile stuff at face value. No academic work exists to link personality traits, especially those gleaned from the sketchy and often false information on Facebook profiles, definitively to political choices. There is, however, research showing that values or even genetic factors trump traits. It's not even clear how traits affect political behavior, such as the tendency to vote and donate to campaigns: Some researchers, for example, have found a negative relationship between emotional stability and these measures; others have found a positive one.
This is not to say Facebook data, including data on a user's friends, can't be useful to campaigns. The Obama campaign actually asked its active supporters to contact six specific friends suggested by the algorithm. So 600,000 people reached 5 million others, and, according to data from the campaign, 20 percent of the 5 million actually did something — like registering to vote.
But did the Trump campaign need CA and the data it acquired from Kogan to do this kind of outreach in 2016? Likely not. Facebook cut off the friends functionality for app developers because it wanted to control its own offering to clients interested in microtargeting."
I'm no fan of Eric Asimov's wine and spirits column in NYT.  Like most of NYT "lifestyle" journalism, everything it endorses seems awfully expensive. Today he and his panel cast eye and tongue on blended Scotch. I didn't expect my tipple of preference – The Famous Grouse – to make the cut, and it didn't. The list was topped by Buchanan (blenders of Black & White, my late father's pleasure) and Teacher's. Apparently the standard is influenced by how much malt comes through in the whisky – in which case Asimov might have mentioned "Black Bottle" an amusing blend of Islay malts. I'm not going to defend my preference over Asimov's, other than to point out that there is one area on the world where Famous Grouse rates #2, behind Bell's (not available in the USA). And that is? Oh, gosh, Scotland. 
Just wondering: might Putin be in possession of Dreckstuck's tax returns?
These (from Trump Twitter Archive) are the ravings of an unstable personality, trapped in a carapace of ignorance and narcissism: Mar 21, 2018 01:56:14 PM – I called President Putin of Russia to congratulate him on his election victory (in past, Obama called him also). The Fake News Media is crazed because they wanted me to excoriate him. They are wrong! Getting along with Russia (and others) is a good thing, not a bad thing….They can help solve problems with North Korea, Syria, Ukraine, ISIS, Iran and even the coming Arms Race. Bush tried to get along, but didn't have the "smarts." Obama and Clinton tried, but didn't have the energy or chemistry (remember RESET). PEACE THROUGH STRENGTH!
…
3/22
Mitchell Moss, a new friend who is Henry Hart Rice Professor of Urban Policy and Planning and Director of the Rudin Center for Transportation at NYU/Wagner, sent me this: http://www.newsweek.com/donald-trump-bill-de-blasio-president-mayor-855228  As I emailed Mitchell along with my thanks, I agree with every syllable. 
Thanks for this, Tyler Cowen: https://www.wired.com/story/facebook-cambridge-analytica-response/?mbid=social_twitter_onsiteshare What I find fascinating about this FB-Cambridge Analytica brouhaha is that it strikes me as having the same "no there there" quality as the purported Trump "collusion." Quite apart from the discomfort caused to two sublimely unlikable people, Dreckstuck and Mark Zuckerberg, where's the beef? Most of the people complaining about Cambridge Analytica having absconded with "vital" personal data were happy to commit indiscretion and disclosure on FB for all the world to see. Most had their minds made up on matters of political economy. If FB "manipulation" encouraged them to go out and get the folks up the street to vote Trump, so what? What's the big deal here? What's new? Google "Vance Packard" and you'll earn that his book The Hidden Persuader sold a million copies back in thev 1950s, when a million really meant something. In Madison Avenue USA, Martin Mayer exposed the subliminal manipulations postulated by Ernest Dichter. I got off FB/Twitter because, when I turned 75, I vowed to spend the minimum amount of time I could in the company of fools, philistines and charlatans. Which is what FB and Twitter struck me as being mainly about.   
Today's prize tweet from Dreckstuck: Mar 22, 2018 05:19:57 AM – Crazy Joe Biden is trying to act like a tough guy. Actually, he is weak, both mentally and physically, and yet he threatens me, for the second time, with physical assault. He doesn't know me, but he would go down fast and hard, crying all the way. Don't threaten people Joe!
What's happened to Farhad Manjoo, the NYT digital star who wrote about how he unplugged from the 'Net – except it turned out he didn't? I Googled him and it appears he's tweeting on his personal @, but he's not in the paper. I think we should be told. 
A useful addendum to the Bershidsky post mentioned yesterday: https://www.bloomberg.com/view/articles/2018-03-21/cambridge-analytica-s-real-business-isn-t-data
It will be interesting to see how Dreckstuck responds to today's break in stock prices, which seems by universal chatterati agreement to be fueled by trade-war fears. I doubt he himself will much affected, although whatever securities he owns are probably hocked to the gills on margin and other loans. But his base doesn't include the "investor class," at least those with a billion or more (wondering how my old friend Sec. Wilbur is feeling) so what's a few million here, a few million there? The folks in the middle (high seven to mid eight-digit net worth) may be taking it on the chin. Smallholders like me are probably not getting really creamed. We can't afford to lose money so our mites are invested on the (at least theoretically) safe side. If the break holds, one big loser will be NYC real estate, which is coming on stream with a lot of overpriced housing. 
A reader reminds me that Trump>China Tariffs>724 point market drop uncannily resembles the manipulation at the heart of Green Monday, my first novel. There it was OPEC triggering the action. Wonder if the Kushners stocked up on S&P put options?  
A guide for the vexed and perplexed: https://qz.com/email/quartz-obsession/1235589/
re Manjoo (above) just found this in an article: "You probably read New York Times tech columnist Farhad Manjoo's piece about going "offline" for two months. Two days after Manjoo's piece was published, the Columbia Journalism Review raised questions about his process, showing that Manjoo was actually almost constantly on Twitter during his self-professed period of digital news abstinence. Manjoo, as much as he wanted, could not log off, which seems like a lost opportunity for a much more interesting and honest piece he could have written. He tried to quit, but he just couldn't. I reached out to Manjoo to talk about it, but, as of this writing, he hasn't responded." Here's the link: https://www.esquire.com/news-politics/a19505007/internet-broken-brain/
3/23
I don't believe this. The realty site Curbed routinely runs a feature on the theme of "What $X gets in NYC". Readers vote on which of 5 well-illustrated rentals at, say, $3000/month they would go for. Inevitably, Manhattan locations prevail over more commodious, more fully-featured offerings in other boroughs. https://therealdeal.com/2018/03/22/nyc-renters-care-more-about-price-than-location-study/
Amen. My hero, Andrew Bacevich: http://www.tomdispatch.com/blog/176400/
As opposed to Bacevich, consider this conjunction of lunatics: https://mailchi.mp/941fa220e28a/tac-on-appointment-of-john-bolton?e=ef6d4ebf1f