Back from 10 days' vacation in modest rental accommodation out on the East End. A very good time entirely centered on family and truly close friends. Enough golf to satisfy me that my golfing life, stretching back almost 70 years, is now at its end. But there were compensations. As good a reason as any for estivating in "duh Hamptons" (aka "duh Beach" – a singular alternative locution) is August corn, and this year's crop was the sweetest, tastiest in memory. We ate some every night.
The Hamptons now reek of people like Carl Icahn, pictured below: this is what a life scrounging for every last nickel causes one to end up looking like. Of course, if you truly believe, as people like Icahn do, that happiness can't buy money – then this may be what bliss truly resembles.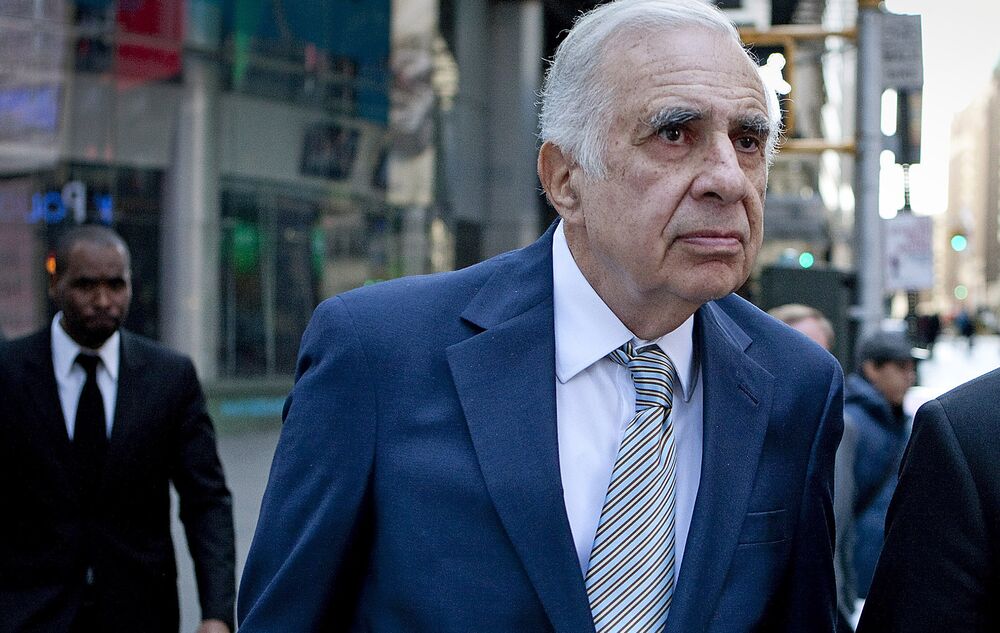 https://www.bloomberg.com/news/articles/2017-08-29/blackrock-finds-5-trillion-industry-poses-more-risk-than-in-08
The smartphone as an instrument of cultural vandalism: http://observer.com/2017/08/tourists-break-800-year-old-coffin-taking-photo/?utm_campaign=arts&utm_content=2017-29-08-10365093&utm_source=Sailthru&utm_medium=email&utm_term=channel-arts-distribution
https://www.vanityfair.com/news/2017/08/how-the-swamp-sold-its-soul-to-donald-trump?mbid=nl_th_59a48cf5e3908e354e8fd4cc&CNDID=42793573&spMailingID=11797932&spUserID=MTQzOTExNDk1OTIxS0&spJobID=1222604616&spReportId=MTIyMjYwNDYxNgS2
After posting the glowing radiant visage of Carl Icahn above, I flip to my browser and find this:  http://dealbreaker.com/2017/08/after-being-caught-elbow-deep-carl-icahn-is-going-to-go-ahead-and-just-shove-his-torso-inside-the-ethics-cookie-jar/?utm_source=hs_email&utm_medium=email&utm_content=55771010&_hsenc=p2ANqtz-8qYUMtherK0QsWO3XDAFrfWOXuB3fAISk9LI927SKNY4H8CE-1CBAYt3dXoYrTc8gzUjSF9iEh-zxxYDF1mqQRSJp2Mw&_hsmi=55771010 
8/30
Can't buy me love: http://theartnewspaper.com/news/museums/berkshire-museum-board-turns-down-1m-to-pause-art-sale/?utm_source=daily_august30_2017&utm_medium=email&utm_campaign=email_daily&utm_source=The+Art+Newspaper+Newsletters&utm_campaign=2baa224533-EMAIL_CAMPAIGN_2017_08_30&utm_medium=email&utm_term=0_c459f924d0-2baa224533-60919593
Aside from his more malignant qualities, Trump really is an asshole: https://www.washingtonpost.com/news/morning-mix/wp/2017/08/30/when-natural-disasters-hit-past-presidents-have-addressed-the-human-toll-not-trump/?utm_term=.cefc54be5eb9&wpisrc=nl_mix&wpmm=1
Make that "nutty asshole."
Amen: https://jmp.princeton.edu/announcements/some-thoughts-and-advice-our-students-and-all-students Let it be noted that a signatory to this admirable document is Nicholas Christakis, a distinguished psychologist who, along with his wife, was driven from the mastership of Silliman College, Yale, by student identity-mongers. The video of Christakis being berated by a shrieking young woman who should have been sent to stand in the corner is chilling.
Something like Harvey inevitably shows people at their best and at their worst. https://www.aol.com/article/news/2017/08/30/storm-hit-houston-reels-from-influx-of-evacuees-crime-outbreak/23190886/And then of course there's Trump.  In Texas, people are pushed against the wall, but here he is in Missouri, pumping for legislation that will make the rich richer: https://www.aol.com/article/news/2017/08/30/watch-live-president-trump-holds-tax-reform-kickoff-event-in-missouri/23191090/It does make one wonder whatever became of "conscience"?
Interesting: http://inference-review.com/article/equal-by-catastrophe
An excellent piece: vanity, vanity…and entitlement: https://www.the-american-interest.com/2017/08/16/probably-think-art/
Agreed: http://dealbreaker.com/2017/08/because-the-80s-never-ended-and-this-is-all-a-cocaine-fueled-nightmare-president-donald-trump-is-being-asked-to-pardon-michael-milken/
Where is ISIS when we need them (or at least their decapitation expertise)?: https://www.nytimes.com/2017/08/30/magazine/how-to-get-rich-in-trumps-washington.html?emc=edit_ta_20170830&nl=top-stories&nlid=2476992&ref=cta&_r=0 
I suppose I should comment on the eclipse, on the subject of which more bullshit has been expended than on any subject in recent memory. My wife went to the Parrish Art Museum to watch. I stayed at home, preferring to watch it on ABC, which I knew could be counted upon to coat the occasion/phenomenon with a rich layering of sanctimonious crap about "national unity." And so it proved. Not to disparage the real thing. A friend who saw it in Idaho said the post-eclipse light was of a quality she'll never forget!
8/31
https://www.nakedcapitalism.com/2017/08/new-america-foundation-head-anne-marie-slaughter-botches-laundering-googles-money.html I met Anne-Marie Slaughter once and at first blush figured her for the kind of Faculty Club-think-tank opportunist that thinks of itself as "elite." Gimme a break!
No comment needed: https://news.artnet.com/market/read-closing-letter-freymond-guth-1067177?utm_content=from_&utm_source=Sailthru&utm_medium=email&utm_campaign=US%20afternoon%20newsletter%20for%208%2F31%2F17&utm_term=New%20US%20Newsletter%20List%20%2830%20Day%20Engaged%20Only%29
Important. My Exeter education was saturated with the views of Justice Holmes, who hated monopolies:
https://www.buzzfeed.com/mattstoller2/google-tried-to-shut-us-down?utm_term=.ukbxEMYp9#.iqVK1qn86  More:https://www.theatlantic.com/technology/archive/2017/08/the-dumb-fact-of-google-money/538458/
Well, at least SOMETHING to be happy about! http://www.telegraph.co.uk/tv/2017/08/30/great-british-bake-review-new-home-episode-1-rose-challenge/ Pin this Robert Reich observation on your bulletin board: "Many times the most efficient way to make money is to change the rules governing how that money can be made."
9/1
Sumer is a-goin' out…and not an instant too soon.
I always find this kind of thing fascinating. I believe that curiosity is the most potent of all so-called elixirs of youth: https://www.la-srinivasan/the-sucker-the-suckerrb.co.uk/v39/n17/ami
9/4
Happy Labor Day – End of Summer. Our weekend was taken up by the removal of the floor-to-ceiling bookcases in the old apartment. They're going to a new community center in Jamaica, a country with which I had a 50+ year happy relationship thanks to the house my parents built at Tryall.
Today's NYT has a big article on the new residential colleges at Yale, in particular "Hopper", named after a female admiral and distinguished scientist. My guess is that most people will assume the college is named after Dennis Hopper, my first wife's husband after me. I offered Yale what I still think was the perfect name for one of the new colleges: Levi Jackson, Y'50: first African-American captain of Yale football;  first African-American elected to a senior (or "secret') society, in his case Berzelius; and – after graduation – first African-American executive at Ford. Naturally my suggestion went nowhere. And for the record, I think Yale President Peter Salovey is a pusillanimous jackass.
An acute piece by my pal Dizard. It calls inferential attention to the Big Change that has occurred in my lifetime: the ironic evolution, under a series of "the government is your enemy" presidents,  of Washington and its state and local siblings into bailout buckets, no matter how reckless or foolish the risk undertaken in the name of private greed or comfort, whether we're talking about junk-bond swaps or building luxury housing in a flood zone. https://www.ft.com/content/50427898-8e53-11e7-a352-e46f43c5825d
I'm not at all certain how I react to this although tribalism is something that's been vexing me pro and con for 40 years. Still, it's such an important subject! https://www.nakedcapitalism.com/2017/09/joy-reids-politics-tribalism-democratic-party.html
As they used to say, Wogs begin at Calais: https://www.theguardian.com/world/2017/sep/02/great-saudi-sell-off-bankers-lawyers-flocking-gulf 
Can't understand why we fear the No. Koreans when we stick our institutional tongue up the butthole of the Saudis, the most conniving, cruel, lying, double-dealing swine in history!
Been looking at a lot of sports for a longtime, but tonight's Del Potro ver Thiem in 5 sets is right up there!