We fancy that our post-postmodern life operates at unforeseen rates of speed but I never cease to marvel how much ground the ancients traveled in their time in the course of a day. I subscribe to  a wonderful site that every day offers an entry for the same day of the month from Samuel Pepys's great book. The way Pepys gets around London, here, there and everywhere, to and fro, back and forth, on foot or by boat and coach, simply amazes. I remember feeling the same about George Templeton Strong's daily peregrinations the length and width of mid-19th Century New York, and earlier the same about the hero of Flaubert's Sentimental Education in the Paris of the generation before Strong. Check it out: www.pepysdiary.com
No comment needed: http://www.nakedcapitalism.com/2017/03/5-charts-wall-streets-outsized-pay.html
My friend Michael Hudson has just published a new book, J is for Junk Economics (Islet Press, available on Amazon). It has just arrived (paid for by me, I should add, I'm not a freebie-seeker) and I am keen to get to it. Michael combines common sense, inspired insight and erudition to an uncommon degree. Everything he does is worth close attention.  To give you a sense of the new book, here are some chapter headings: "F is for Fictitious Capital," "P is for Ponzi Schemes," "R is for Rentiers". Also included are a number of essays and interviews on "divers matters," as we neo-Augustans say. Buy – read – ponder: that's my recommendation – even in an age when it is the unexamined life that rings the cash register.
https://www.theatlantic.com/international/archive/2017/03/russia-hack-yahoo-nsa-intelligence-prism/519885/?utm_source=twb
Apropos of my Quest essay on the personal library: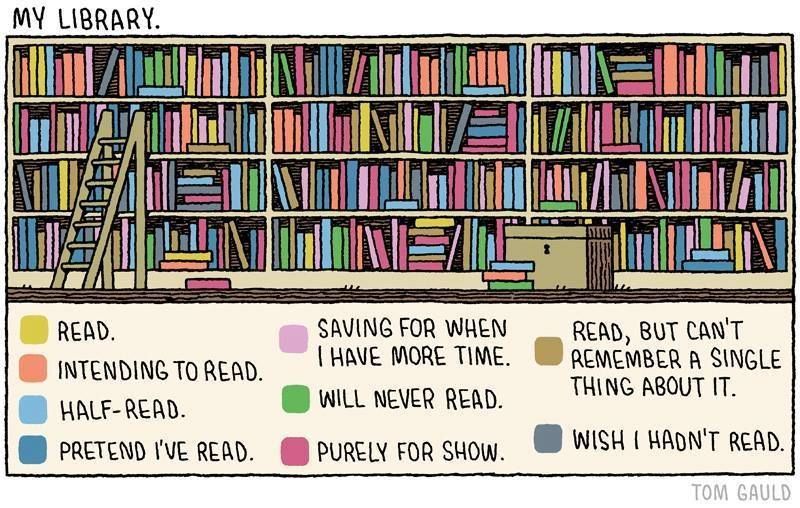 About the only positive aspect of Trump's arts and culture defunding is that it might spare us Marina Abramovic. https://news.artnet.com/art-world/jasper-johns-outraged-cultural-icons-demand-trump-spare-arts-funding-894428?utm_campaign=artnetnews&utm_source=031717daily&utm_medium=email&utm_content=from_&utm_term=artnet%20News%20Daily%20Newsletter%20USE
Why bad guys finish first. The name of the game in money management has for some time been "AUM." Assets Under Management. It's based on a principle that worked for decades for Las Vegas: if the handle is big enough, the house will never lose, only the players. https://www.bloomberg.com/view/articles/2017-03-16/ackman-s-investors-won-t-get-their-yachts  
I'm no Bannon fan, but I think this is stupid – and hardly makes its case. https://www.bloomberg.com/view/articles/2017-03-16/steve-bannon-s-preposterous-rosebud-moment
One essential component of the examined life seems to have gotten lost along the way. Namely, Wisdom. It's frustrating for me, for instance, to find no outlet – no demand or appreciation – for the fruits of 60 adult years of observing, comparing and pondering. What is wisdom? Perhaps it might be expressed in an algorithm encompassing a weighted convergence of experience, brains, learning and age. In any case, the  present ruling generations have no interest in what Shakespeare figured out at the conclusion of King Lear,  when Edgar laments:
The weight of this sad time we must obey.
Speak what we feel, not what we ought to say.
The oldest hath borne most. We that are young
Shall never see so much, nor live so long.
Here's a terrific piece by Vicky Ward: http://highline.huffingtonpost.com/articles/en/mercers/
Muirfield (the Honorable Company of Edinburgh Golfers) will be admitting lady members. About time – although I'm sure the news has my late friend, the incomparable, indomitable, impossible P.W.T. "Paddy" Hanmer RN Ret., the club's long-serving Secretary, spinning. Of course, not the Arabs, and professional golf, where big money is on the line, remains spineless. http://www.globalgolfpost.com/now/2017/03/15/opinion-ignoring-golfs-ties-emirates-risk-hypocrisy 
Stupider and stupider: day by day the incompetence of the big-name Met board increases: https://news.artnet.com/art-world/met-execs-awarded-bonus-and-raises-894431?utm_campaign=artnetnews&utm_source=031717daily&utm_medium=email
We needed our own Pecora. http://wallstreetonparade.com/2017/03/what-went-wrong-in-wall-street-reform-obama-versus-fdr/
I got my earliest – and abiding – definition of a hypocrite from my father: a person who says yes" when he means "no."  I find articles like this pointless: http://www.iasc-culture.org/THR/THR_article_2017_Spring_BDMcClay.php
My own view, exactly. The writer as charlatan: https://www.thenation.com/article/the-serendipiters-journey/